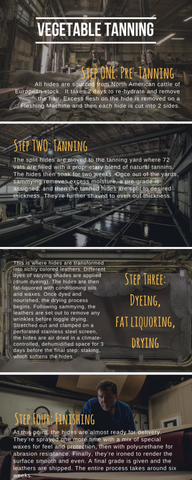 I think you'll agree that:
Finding the details of how your products are made is HARD.

But not for your next Hand+Built bag or accessory. 

In this post we dive a little deeper into the vegetable tanning process that goes into making the leather that we in turn use to make all of our handmade leather goods.

Let's start with the basics. How exactly does tanning work? How does it turn a hide into leather? And why do we care?

Benefits of Vegetable Tanning

These days leather is used to make everything from the shoes on our feet to the case on our phones. Many of your everyday products use leather that has been either chrome tanned or vegetable tanned. At Hand+Built Leather Goods we used vegetable tanned leather because its benefits include:

Longer lasting

Has a more natural look and feel

Builds character as it ages

High durability and strength

Biodegradability
However, it is not without its disadvantages. Vegetable tanning is a much longer process than other forms of tanning, like chrome and aldehyde, and requires a high consumption of water for production. As well, since it's based on a traditional method, the number of tanneries that practice this craft are limited. According to Matt Bressler of Wickett & Craig, our leather source, their tannery is one of the only two left in the country; the other being Hermann Oak Leather in Missouri. Thus it is often associated with a high cost.
Learn the Tanning Fundamentals
There are a lot of complicated chemical words involved but essentially the water molecules in the hide cause decomposition. Collagen, the same protein targeted by face and lip fillers, is one of pillars of the skin's structure and water sneaks in and begins to remove bricks from its base like pulling the bottom blocks of a Jenga tower. To prevent the H2O attack, collagen needs to be stabilized; this is where tannins come in. Tannins with guns blazing charge in and replace water molecules with their phenolic groups, binding to collagen and offering extra support. Thus, the hide now becomes leather and can last for many years to come.
So where are tannins from?
The most common are obtained from woods like chestnut, quebracho, and oak; gallnuts like Turkish and Chinese gallnut or extracts from plants like sumac and catechu. 
Wickett & Craig uses a proprietary blend that includes the bark of Mimosa and Quebracho trees. 
Get a Unique Peak Behind the Scenes of Wickett & Craig's Tanning Process

At Wickett & Craig "they've turned an age old art form into a science". Check out the infographic below for more details on how they turn their raw hides into beautiful, sturdy leather.

Having done this for over 150 years some things about the process have changed. For example, because vegetable tanning is such a long process, tanners had to account for the change in weather conditions, especially between winter and summer months. In the modern era, tanners like Wickett & Craig now have "full labs that check to ensure a 90 degree temperature is consistently maintained," according to Matt Bressler. As well, he's seen the industry change shift from mostly using leather for horse products to fashion items.
Over the years, numerous industry changes, and trends, vegetable tanning has turned changed from the way things were done to a fine craft. Yet, it has stayed the course of time and produces unique, high quality leather that is sought after by those who want the best.
For more information about the vegetable tanning process visit: http://wickett-craig.com/
(author: Cassandra Ottawa)