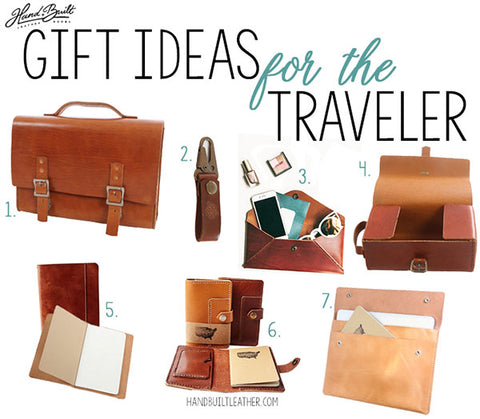 Looking for the perfect gift for a traveler? Whether it's for a holiday, graduation, or other special occasion -- these ideas from Hand+Built Leather will make meaningful presents for yourself or any world wanderer.
From London to Tel Aviv to San Diego, globetrotters require three essential elements in their go-to travel bag: sturdiness, comfort, and ease of use. And H+B's Traveler bag delivers just that for the seasoned traveler, local explorer, or the first time flyer.


Double padded straps, convenient storage pockets and quick release buckles make H+B's Traveler bag the sturdy, comfortable, practical, and stylish choice for your next adventure.
Carry your keys with style and function using the H+B Key Fob/Key Chain, designed to be eye catching and practical. Handcrafted from premium vegetable tanned leather to fit over your belt or attached to a bag or purse.
They say good things come in small packages and this petite H+B Clutch Purse is a prime example. Handcrafted with vegetable-tanned leather, the fold-over clutch is ideal for your on-the-go needs.

The perfect size to carry all your essentials, the classic burnt umber compliments any outfit so you can swipe it off your hallway table as you rush out to grab a coffee or stop by the local bar.
This gentleman's classic will keep you looking sharp when traveling by keeping your toiletries neatly and conveniently stored and ready for use. You'll be making a style statement with this refined leather Dopp kit and a nod to Charles Doppelt whose company first made the toiletry bag in 1919.

The H+B Dopp Kit features sturdy rivets, hand stitching, a solid brass buckle, and a handle for carrying. Personalize your leather Dopp kit with your initials to make this leather classic uniquely your own.
Explore. Plan. Create. Take note. With our handmade, durable leather journal, you can keep track of what's important. Easy to store and carry, the H+B Journal has a distinctive look and an old-world charm.  Includes one Moleskin Cashier Journal.
Every traveler needs something to hold their passport and notebook and with this holder you'll have it all at hand without ever having to search for a pen. The protective pen sleeve of the H+B Notebook/Passport Holder features decorative stitching and is designed for hassle-free access to inside pockets without removing the pen.
Work smarter on-the-go with the sturdy H+B Laptop Case & field notes pocket. Handmade leather carrying case provides superb protection for your laptop with an extra front pocket for storing your working documents.


Our stylish leather case features durable, decorative hand stitching and a fold-over flap with snap closure. Burnished and routed edges and our branded logo provide a tailored leather finish. Add your initials to personalize your leather laptop case.
These favorite travel gifts will help capture those memories, inspire future adventures, and make life on the road easier and more enjoyable. Or visit our full catalog for more go-to H+B products when planning your next trip.