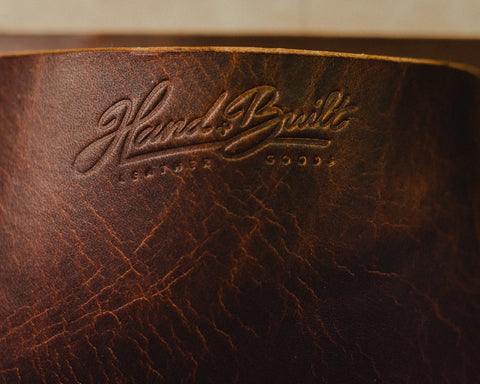 What is full-grain leather and why do we use it? The short answer: full-grain leather is the highest quality leather available.
What Is Full-Grain Leather?
Full-grain leather gets its name because it comes from the top layer of the hide, right below the hair, which includes all the grain. Grain is the layer of the hide that contains densely interwoven fibers that run both horizontally and vertically.
The natural grain pattern of the hide is visible once the hair is removed. Due to the vertical fibers in this layer, full-grain leather is the most durable leather. The fiber makeup of full-grain leather resists moisture.
Characteristics of Full-Grain Leather
Since full-grain leather is not processed to remove any imperfections it will contain natural markings accrued over the animal's life. These markings are not excessive and actually add to the character of the hide. Overtime, full-grain leather will absorb body oils from usage resulting in a patina of sorts, adding to its character.
Once leather is corrected to remove any imperfections, it is no longer considered full-grain leather. Imperfections can be removed through buffing or sanding, thus altering the quality and durability of the leather.
Quality & Durability
Full-grain leather is the most expensive leather available because of its 
quality. This leather is the most challenging to work with, but we only use full-grain leather because it is built to last.