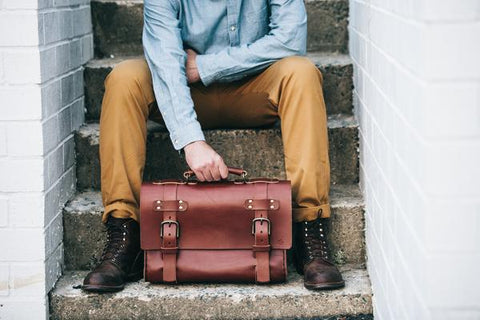 A good-quality leather bag can be a dramatic statement piece as well as a practical accessory for both men and women. These bags are hardwearing, long-lasting, and if treated well, will look better as time goes on-- making them a great investment. But with so many choices and price ranges out there, how do you choose a leather bag?

How to Choose a Leather Bag
The three main things to look at when choosing a leather bag are: the type of leather used, hardware, and stitching.
Type of Leather
Pick up a piece of leather. Try bending it gently -- watching for sharp creases and signs of a coating on the top of the material. A good leather will wrinkle naturally like the soft creases on the skin of your hands.
When choosing your leather bag, invest in good quality leather. Quality leather ages well and is one of those rare things in life that looks better as it gets older! We recommend looking for bags and accessories made from "full-grain leather" to guarantee a superior product. This leather comes from the top layer of the hide, right below the hair, and is the most durable.
Hardware
When choosing your leather bag, examine the hardware. Try zipping or snapping the bag -- looking for a smooth closure. Check the D-rings that join handles or shoulder straps, and test the buckles, if applicable.
Cheaper hardware will often be the first thing to go on a bag, so take the time to choose a leather bag with high-quality fittings and hardware to ensure a longer-lasting accessory.
When choosing your leather bag from Hand+Built Leather Goods, we can include solid brass or copper rivets, matte nickel or antique brass d-rings, swivel clips, snaps and buckles. Each is attached carefully by hand for a truly custom-made product.
Stitching
Look carefully at the stitching when choosing a leather bag.
Was the bag sewn by hand or with a machine?
Stitching by hand can be stronger than machine and makes a more custom product. The hand-stitch on leather was pioneered by saddle makers who needed to use a very tough stitch through thick leather.
At Hand+Built Leather Goods we assemble and hand-stitch our bags and accessories with a 4-strand waxed polycord thread to secure the longevity of your leather goods.
Investing in a Leather Bag
Once you've examined the leather, hardware, and stitching, it's time to choose your leather bag and we certainly hope you'll invest in one from Hand+Built Leather.
We stand behind every product we make so much so that we offer a lifetime guarantee to the original purchaser. That's right! If anything ever happens to your product, due to faulty material or craftsmanship, simply send it back and we will fix it or if we can't fix it, we will send you a new one.
Browse our catalog to learn more about our products, or email us at orders@handbuiltleather.com with any of your questions or ideas. We will work with you to make your bag that will be #BUILTFORLIFE and we can't wait to invest in you and your new bag!